The Chimney Cleaning Experts
The best Chimney Cleaners Johannesburg has to offer
For an efficient and experienced chimney cleaner look no further. Our Company can help. Whether it's a single or a number of chimneys we will be able to assist.
Our Office hours are:
Monday to Friday 8am to 5pm and
Saturdays from 8am to 12am.
Chimney Damper
The chimney damper helps to regulate the amount of oxygen reaching the fire.
The damper is sometimes close to prevent ash and soot from falling back into the fire-place. This shouls only happen if there is no fire.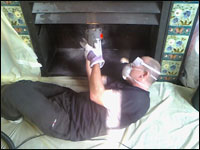 The air flow into the fireplace should be controlled when making a fire as a draft will blow the initial flames out. Once the fire is going and the flue has warmed up then opening the damper is a good idea as the smoke will now be 'sucked' up and out.
When the chimney cleaner cleans the chimney he will check that the damper is intact and in working order, and advise you if this is not the case.
Having your chimney clean and it's components in good repair will ensure that you get the most out of your fire.
The chimney cleaner will check to see if everything is clear inside your chimney once he has cleaned it, a torch will aid him in his job.
Call us Out Now -081 719 1100
© 2017